DECORATIVE BEAMS & TRUSSES
DECORATIVE BEAMS & TRUSSES
Create a dramatic look that draws the eye toward decorative beams and beautiful trusses in both the interior and exterior of your home or business.
Whether you have exposed structural elements that need to be covered, or you just want a bold look, box beams are a great way to present the visual of a solid wood beam without the added weight. At Studabaker Speciality Woodworks, we'll collaborate with you to create the aesthetic you desire and then get to work in our woodshop to fabricate custom hand hewn, rough sawn, or distressed faux beams out of new and reclaimed wood. When it comes to custom wood beams, no one does it quite like us.
A Custom Wood Beam for Your Space
For the team at Studabaker Specialty Woodworks, nothing gives us greater satisfaction than helping our customers to complete their space with a unique look. Whether you're adding elements to your home and searching for craftsman style beams or you are searching for an elegant way to add visual appeal to your business, nothing beats a decorative wood beam.
Thankfully, when you choose to work with our team, you can rest assured that craftsmanship is the cornerstone of our business. With plenty of unique and beautiful options available, there's something for everyone. Simply put, no matter the type of beam you'd like to add, we'd love to partner with you to ensure that you get just what you've been dreaming of. For your convenience, all of our products can be shipped nationwide.
Decorative Ceiling Beams
There's just something special about bringing something from the outside world into your home, and you'd be hard pressed to find something as naturally beautiful as wood. It has a way of imparting a warmth to any interior space that is almost impossible to beat.
Whether your goal is to create a unique aesthetic in your home or you're looking for an interesting way to add some character, our custom beams are the perfect solution.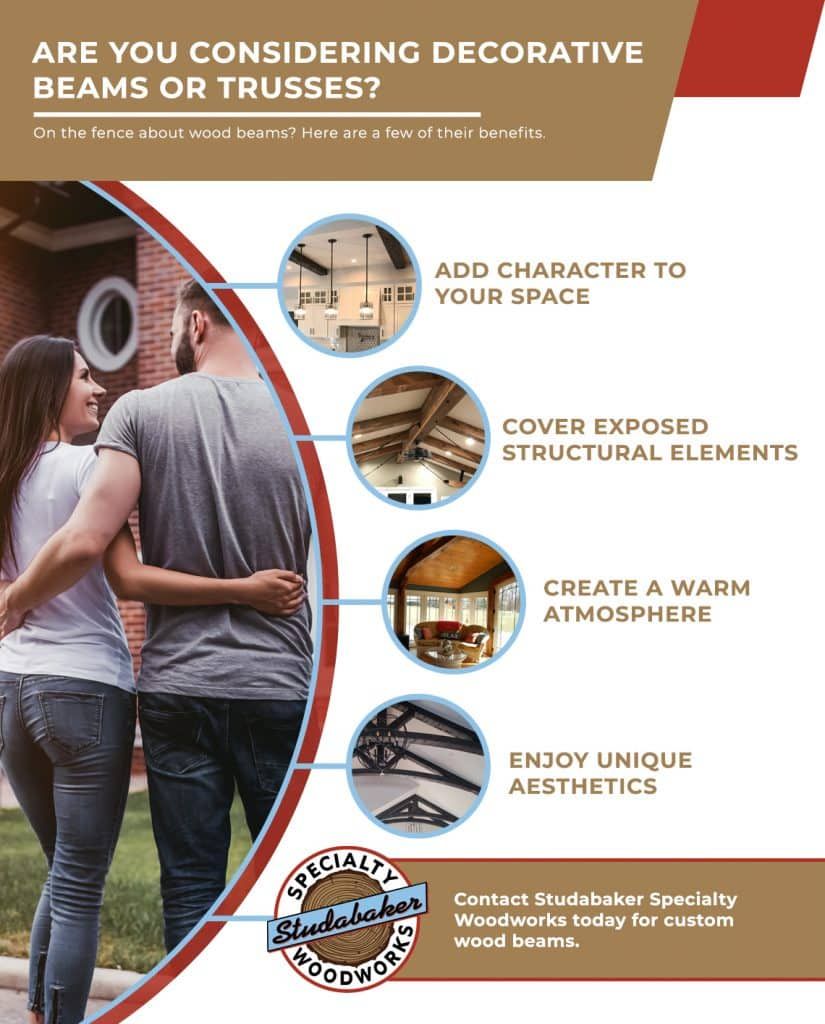 Custom Woodworking Done Right
At Studabaker Specialty Woodworks, we know just how important it is to have a space that you feel comfortable in. Being able to rest and relax in a comfortable atmosphere that suits your family is a wonderful thing, and we strive to put our woodworking skills to good use in order to provide you with a high-quality product you'll enjoy for years to come.
As a family owned and operated business — led by husband and wife team Jarod and Carissa Studabaker — we bring an unrivaled work ethic to all we do. We absolutely love the work that we do and we are dedicated to providing you with the perfect wood beams for your home. Backed by nearly two decades of experience as a business, we're here to help you bring your vision to life for your living space.

Get In Touch With Us Today
At the end of the day, no matter your vision for your space, we'd love to make your custom beam ideas a reality. Our box beams are specially designed and crafted to meet your specific needs, and whether you prefer the elegant look of hand hewn wood or you enjoy the look of beams with saw marks as if they came straight from the lumber mill, we would be honored to work with you to find the beams that best suit your space and your vision. Ultimately, you can rely on us to provide you with a wood beam that perfectly combines the rustic, timeless look of wood with an upscale design that leaves you smiling and satisfied.
Have a question for our team? Ready to run your ideas by us? Interested in getting a quote for custom wood beams? We would be glad to chat with you. Studabaker Specialty Woodworks is proud to ship our products all across the United States, so whether you're near to us in Bluffton or you're renovating your space from afar, we are here to lend a helping hand, ensuring that you have a space where elegant and rustic unite.
Reach out to our team today to learn more about how we can bring your vision to life. We are looking forward to hearing from you soon!
Trust the look of your home or office to Studabaker Specialty Woodworks.