END GRAIN FLOORING
Made from crosscutting logs and reclaimed beams into wooden tiles, end grain flooring is the most durable and unique wood floor surface.
End grain flooring is very popular with high-end architects and designers for its unique look and long-lasting nature, especially in high-traffic areas. It offers many design options ranging from various wood species to custom patterns or a simple grid layout. Great for large commercial flooring projects or an ultra custom look to your home or office.
Beautiful Custom Wood Flooring
For the team at Studabaker Specialty Woodworks, helping our clients bring their vision to life is what gives us the most joy — and there's no better way to do it than with end grain flooring. Whether you're searching for a unique addition to your home to make your space stand out or you love the idea of hard-wearing durability that will stand the test of time, end grain flooring is hard to beat.
We believe that everyone deserves to have a space they love, and when you choose to work with our team for your project, we'll go the extra mile to make your dreams a reality.
Why Choose Our Custom End Grain Flooring?
Providing our clients with rustic elegance is always our goal. Nothing gives us greater joy than the craftsmanship that goes into each custom piece, and that's why if you're looking for a breathtaking way to improve your home, end grain flooring is the perfect solution.
There's no better way to ground your home than with the rustic feel of end grain wood married to an elegant design that suits your home.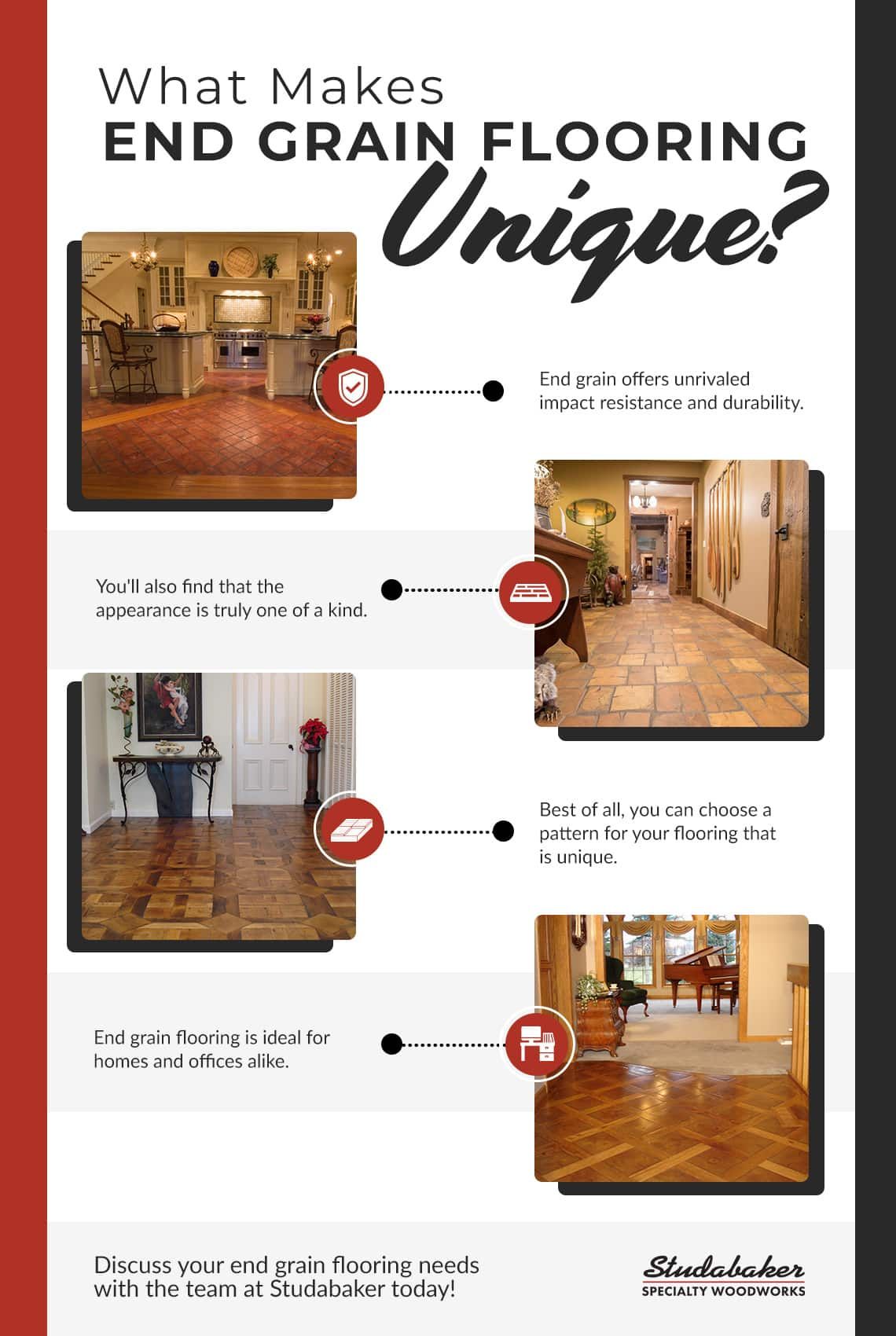 Putting Our Woodworking Expertise To Use
As a family owned and operated business, we know just how important it is for your family to have a space that's all your own. What better way to enjoy your space than with a custom project made to suit your specific needs? We know that everyone is different, and that's why when you work with us, we'll take the time to listen to your needs in order to provide you with an end result that you'll absolutely love.
When it comes down to it, it's our mission to go above and beyond for each and every one of our clients because the work we do is more than just a job, it's a dedication to putting our passion to work to make the world a better place.

Reach Out Now
Trust the look of your interior space to the experts at Studabaker Specialty Woodworks. Have a question for us? Ready to get started on your end grain flooring project? Whatever the case may be, we would love to work with you to help ensure that your entire project comes together perfectly.
Contact our team today to learn more about custom flooring, to discuss your specific project, or to place your order. We look forward to hearing from you!
Trust the look of your home or office to Studabaker Specialty Woodworks.

We'd Love To Hear From You